Adelaide to Darwin driving records
A history of Adelaide to Darwin driving records
Wings across Australia (Wheels, July 1981)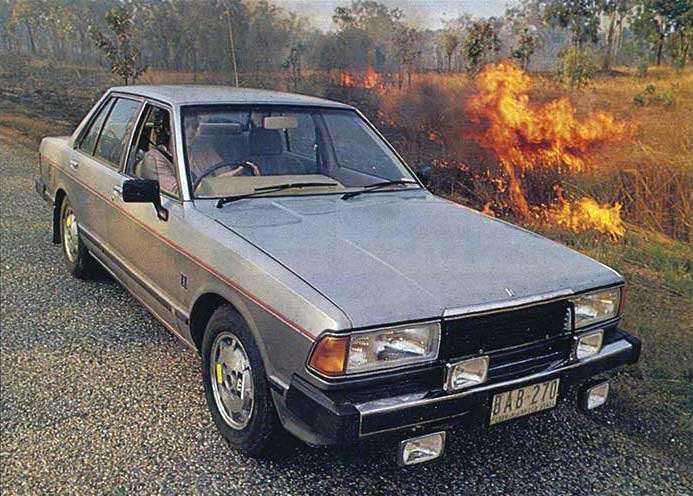 In 1981 a team from Wheels magazine departed Adelaide hoping to reach Darwin within 30 hours, a distance of 3,262 km and an average speed of 110 km/h.
The team consisted of journalists Bob Murray and Matt Whelan and photographer Warwick Kent.
At that time, some of the route was made up of unpaved dirt roads.
The car chosen for the journey was a Datsun Bluebird, with full support from Datsun. The model had not yet been released so the badges were taped over to hide its identity.
Datsun provided a top-of-the-line LX model, with 5-speed manual gearbox, and complete with electric everything (well as much was electric in 1981). They stocked the car with some spare parts, two spare wheels and tyres, and jerry cans for fuel. The car was fitted with a radiator and sump guards and driving lights. Datsun also made a local dealer workshop available to them at their half-way point, in Alice Springs.
They left Adelaide late in the afternoon and were able to average 120km/h for the first three hours until they reached Port Augusta for their first fuel stop.
Their schedule saw them hit the start of the dirt sections at nightfall. The reasoning was that they would be able to take advantage of daylight to drive faster, and they would be slow on the dirt roads anyway so they may as well drive them at night.
They saw plenty of kangaroos, had to drive around a few, but fortunately didn't hit any.
At Coober Pedy, they had to wake a roadhouse owner for fuel at 2:30 in the morning.
They had their first flat tyre at Marla Bore, and the car was filled with red dust after a window was left open as a roadtrain went past.
At Kulgera they stopped for nearly half an hour and had drinks and played Space Invaders.
The dirt roads ran from Woomera to Kulgera, about 800km. Their average speed had fallen to under 100 km/h and their fuel consumption was close to 13 l/100km.
Back on bitumen, they were able to make more use of the Bluebird's maximum 160km/h. However, they were a little disappointed by their 159 km/h average between Kulgera and Alice Springs, 1 km/h less than they were hoping for.
The next 200 km was taken foot flat to the floor. Fuel consumption suffered, and they recorded their worst average of just over 15 l/100km.
They stopped at the Datsun dealer at Alice Springs but had no problems to report. The car was put up on a ramp but no significant damage or issues were found. They were sent on their way with a new set of wheels and tyres and with all fluids checked.
Late at night they finally reached Darwin. Their time was 29 hours and 59 minutes and distance travelled was 3,262 km.
Any doubts they had about the car before the trip had been shattered. The car had impressed them with its comfort, quietness and security. They mentioned some quibbles about the gutless engine and unrefined drivetrain but described it as a good car.
Straight Down the Middle - Wheels June 1987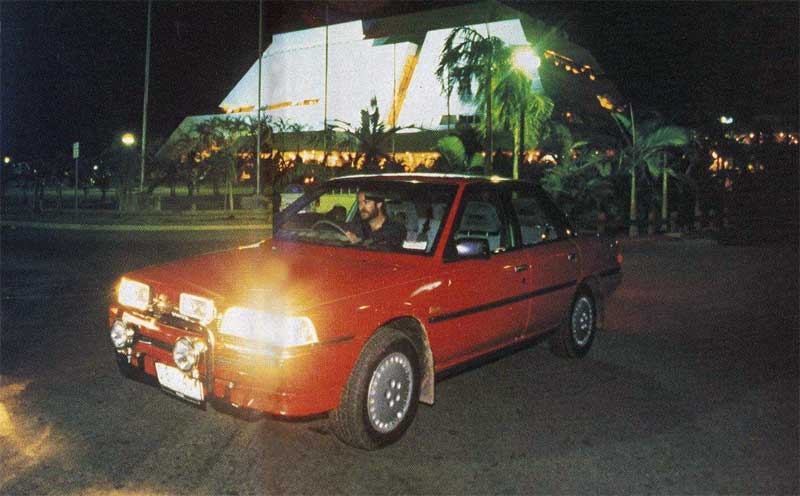 In 1987 Wheels set about beating their own Adelaide to Darwin record that they set in 1981.
Their target was to beat 24 hours - an average speed of 125 km/h - which would knock six hours of their previous time. This target was chosen as the last sections of dirt road were now paved in bitumen.
Matt Whelan and photographer Warwick Kent would take turns driving. Both had also driven in 1981.
They again used a Japanese car for the trip, this time a 4-cylinder Toyota Camry. Not their first choice but the drive was supported by Toyota. Wheels asked for an additional fuel tank to be fitted but Toyota refused due to legal concerns, so they carried a jerry can with extra fuel instead.
This time the reversed their route and started at 5am one morning from the Darwin Post Office. They were followed by police out of town but still managed to record 57km in the first half-hour.
Once on the open road, they were able to see speeds up to an indicated 194 km/h. But the high speeds meant high fuel consumption and they spotted the low fuel light come on under breaking much sooner than they expected. They limped to the next fuel opportunity at a lowly 160 km/h and recorded an average of over 18 l/100km.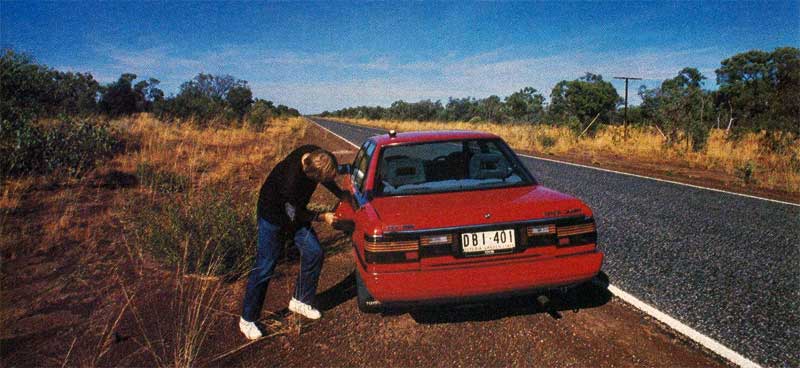 Kent missed a fuel stop and they are forced to fill up with their jerry can, and an hour later Whelan does the same at Alice Springs and they are forced to use the jerry can again.
As they cross into South Australia they reach the section that was unpaved in 1981 that they were only able to average 100 km/h through. This time on the newly laid bitumen they average an impressive 174 km/h.
They reached Adelaide in the early hours of the morning having beaten both their 1981 time and their target time. The 3,032 km distance was dispatched in 20 hours and 52 minutes, an average speed of 145.3 km/h. Fuel consumption works out at 17.4 l/100km - not a normal figure you would expect from a 4-cylinder Toyota but this was far from a normal drive.
They describe the Camry as bland but commend it for its comfort, spaciousness and instrumentation. Whelan's only criticism is about its behaviour under heavy braking. The car had no reliability issues other than refusing to return one of their audio tapes.
They put the 10-hour difference between their 1981 and 1987 runs down to the better roads and advancement in cars.