Around Australia records
There are two distinct routes used for setting official and unofficial records for driving around Australia.
An inland route of around 13,000 km was used for many of the early record attempts that took more direct routes between some towns and cities.
The coastal route, known as Highway One, is around 15,000 km and is the more commonly used route for later attempts.
1925 - Nevill Westwood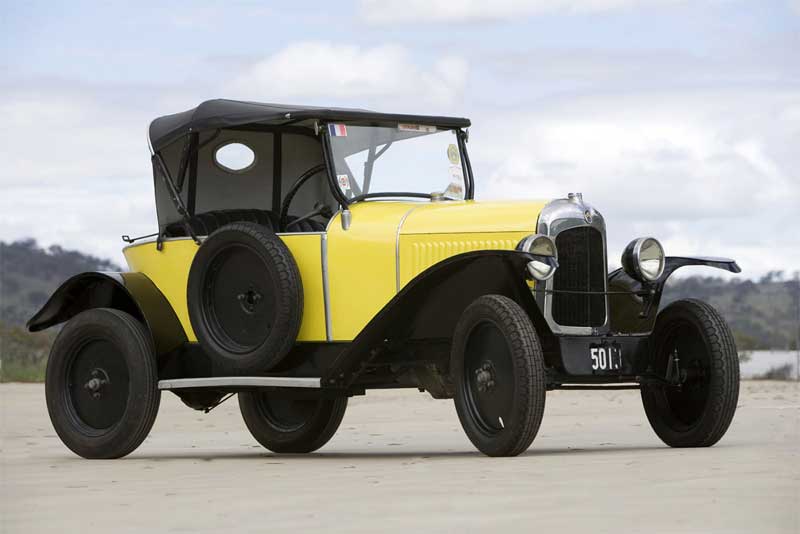 In 1925, Nevill Westwood and Greg Davies embarked on what is possibly the first circumnavigation of Australia by vehicle.
They departed Perth on 4 August and headed clockwise around the country in a 1922 Citroen 5CV that Westwood had purchased second hand and had already travelled 48,000 km.
Adventures along the way included repairing punctured tyres by filling them with grass and cowhide, and having locals carry the car across a river in Victoria.
Davies had enough and quit the trip when they got to Albury. That left Westwood to complete the journey alone, which he did on 30 December that same year. He had travelled 17,220 km in 149 days.
The car has undergone restoration and is on display at the National Museum of Australia.
1968 - Evan Green/Jack Murray
Evan Green and Jack Murray drove a Morris 1100 on the 15,500 km coastal route around the country, setting a record of 8.2 days, an average speed of 79 km/h.
Evan Green had previously travelled the inland route in 1958, 1959 and 1962 in various vehicles, setting records in two of the three attempts. He had also travelled the inland route on three earlier occasions.
1979 - Evan Green/Matt Whelan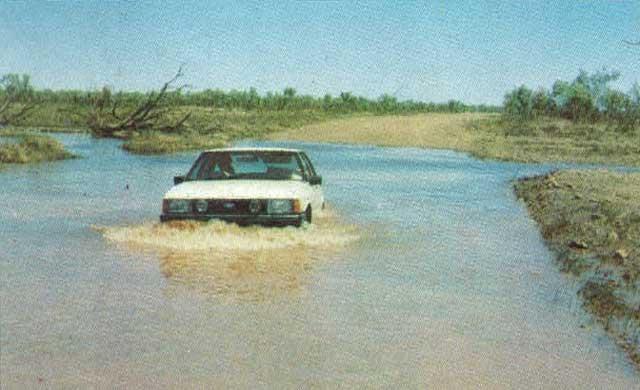 Matt Whelan joined Even Green on another marathon journey in 1979, again taking the coastal route around the country.
The intent of this trip was not to set a record, but as an endurance test for the Ford XD Falcon.
The 4.1-litre six-cylinder car was equipped with a manual transmission and was specially prepared by Ford Australia with the fitting of an extra fuel tank giving a range of 900 km. It was also fitted with air conditioning, a stereo and the outback pack which included a sump guard and heavy-duty suspension.
They carried a second spare wheel and tyre and basic tools.
The start of the journey was delayed by 24-hours after the original car was involved in an accident. Ford hurriedly prepared another car and transferred the modifications and extra parts across from the damaged car, including swapping the air conditioning which also involved swapping dashboards.
They departed from Melbourne GPO at midnight on a Saturday, heading clockwise from Victoria to South Australia.
The journey would have very limited stops, and they would drive and sleep in shifts.
Within only 250 km they had some problems with the engine spluttering, but were able to work around the problem as it only affected certain speeds. They also had issues with temperature and fuel gauges.
The engine problem worsened so they stopped and found a screw had come loose from the carburettor but they were very lucky to find it inside the engine bay.
They were slowed on Kangaroo-infested roads and then, on day three, cattle on the roads became a regular problem.
By this time, they were down to driving 20-minute shifts, until neither felt safe to drive so they pulled over to sleep for 20 minutes.
This was a turning point and their bodies finally adjusted to their sleep timetable.
On the speed limit-free highways of the Northern Territory their average speed rose to 100 km/h as they could cruise at 140 km/h with bursts of 160 km/h or more.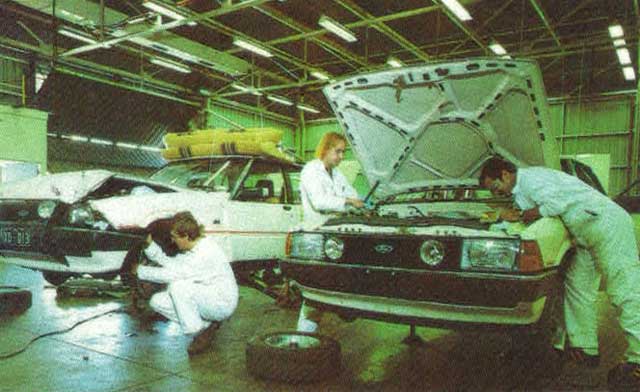 They had a prearranged appointment at a Ford dealer in Darwin for the car's 10,000 km service, which was executed like a motor racing pitstop.
They were slowed in North Queensland as the roads were in a poor state after the wet season.
The car was given a check over at a Ford dealer in Cairns and then continued on their journey, facing rain in the south of Queensland and across the border into New South Wales.
They arrived back in Melbourne 6 days, 16 hours and 27 minutes after starting, an average speed of 96 km/h over 15,345 km. Fuel consumption was 14.5 l/100 km.
They described the car as being near-perfect for what was a very tough test. They were a little critical of the driving position, rear suspension and that the wipers were not effective at over 120 km/h.
2004 - Jesse Taylor/Dean Evans/Thomas Wielecki and Paul CockBurn/Marcus Hoffman/John Mahoney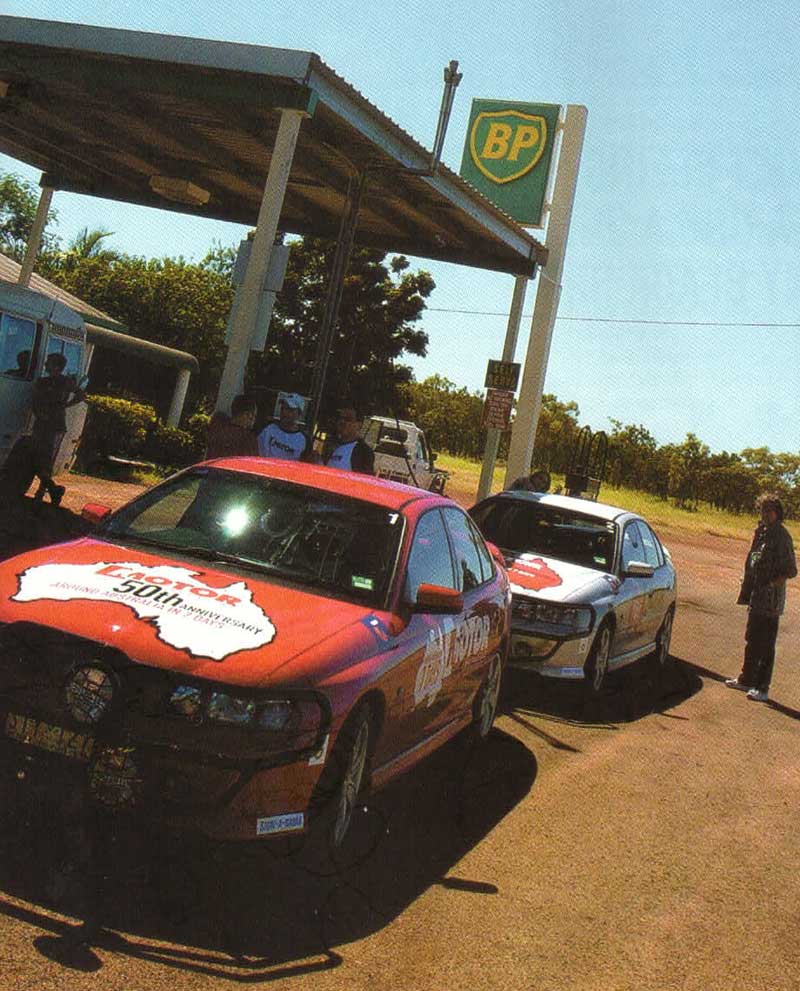 To celebrate Motor (formerly Moder Motor) magazine's 50-year anniversary, two Holden Commodores set off on a non-stop journey around Australia on Highway One in an attempt to complete the trip in less than seven days and to beat the record set 25 years earlier.
The Commodores were VY generation SS models with V8 engines, and each included a few modifications for the trip including a bull bar, four large driving lights, a sump guard, smaller 17" wheels in place of the standard 18" wheels, three spare wheels, and an extra 65-litre fuel tank for a total of 140-litres. The expected fuel range was 1,100-1,200 km between refills.
The primary car comprised journalists Jesse Taylor and Dean Evans and photographer Thomas Wielecki. The second car, which followed as a support vehicle, was driven by Paul Cockburn, Marcus Hofmann and John Mahoney. Drivers would drive and sleep in shifts, with only scheduled stops for refuelling.
Against convention, it was decided to run anti-clockwise in hope of avoiding road closures due to a cyclone.
The cars set of on 25 April from the General Post Office in Sydney at 4 o'clock in the morning.
Drivers adhered to speed limits but there was 2,100 km of driving on the unrestricted highways of the Northern Territory where they were able to drive at around 170 km/h during the daytime, with runs often over 200 km/h. They reached a top speed of 240 km/h.
There were few problems along the way but the cars proved to be reliable. At one point they took a wrong turn and had to turn around after a few kilometres but the biggest issue was that one of the roads in Western Australia was closed due to the cyclone.
They opted to spend a night in a hotel, rather than take a long detour and deviate from the planned route in hope that the road would reopen. Fortunately, it did early the next morning and they were able to continue.
During night time driving in some areas, their speeds were significantly limited by a large number of animals near and on the road. This included the Nullarbor crossing where they slowed to 90-100 km/h for safety.
One of the cars did hit a kangaroo but only suffered minor damage to the bull bar and spot lights.
Their final time was 6 days, 8 hours and 52 minutes, around 8 hours less than the 1979 run. They averaged 96.7 km/h over 14,800 km and used an average of 13.84 l/100 km of fuel. The route was slightly shorter than 1979 due to city-bypasses, but the average speed was comfortably higher.
They did the same journey 25 years before in a Ford XD Falcon and they hoped to beat that time and make the trip in less than seven days.
2017 - Jay Gordon/Daniel Gordon/Will Atwood/Todd Atwood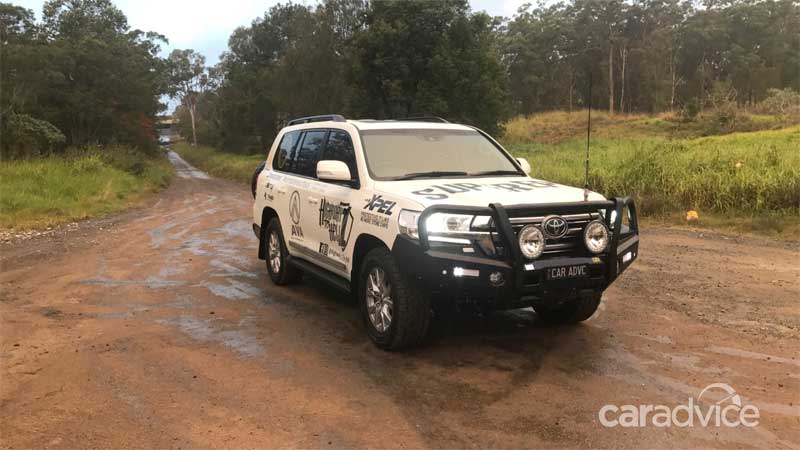 In 2017 a team of four drivers broke Motor's record at the wheel of a 2017 Toyota LandCruiser Sahara.
They started from their home town of Brisbane, and travelled counter-clockwise on the coastal route. Their reasoning for the choice of direction was that the drivers and car would be freshest in the hardest parts of the trip.
They proved that the record could be broken without exceeding speed limits by driving and sleeping in shifts and keeping stops to the minimum. They stopped ten times for fuel, and any other stops were only for driver changes and toilet breaks.
They chose not to deviate from Highway One, which involved driving 30-plus hours on intermittent dirt roads.
They completed the 14,280 km journey in 5 days, 13 hours and 43 minutes, an average speed of 106.8 km/h. The LandCruiser, purchased brand new for the trip, used 2,284-litres of diesel and didn't miss a beat.
Record Attempts: Highway One (15,500 km)
| Year | Drivers | Vehicle | Time |
| --- | --- | --- | --- |
| 1968 | Evan Green/Jack Murray | Morris 1100 | 8.2 days (79 km/h) |
| 1979 | Evan Green/Matt Whelan | Ford XD Falcon | 6.7 days (96 km/h) |
| 2004 | Jesse Taylor/Dean Evans/Thomas Wielecki Paul CockBurn/Marcus Hoffman/John Mahoney | Holden VY Commodore SS | 6.4 days (97 km/h) |
| 2017 | Jay Gordon/Daniel Gordon/Will Atwood/Todd Atwood | Toyota LandCruiser | 5.6 days (107 km/h) |
Record Attempts: Inland Route (13,000 km)
| Year | Drivers | Vehicle | Time |
| --- | --- | --- | --- |
| 1954 | Lex Davison | Holden | 14.0 days (39 km/h) |
| 1955 | Alan Jurd | Standard Vanguard | 16.5 days (33 km/h) |
| 1958 | John Thornton/Keith McCrohon/Evan Green | Standard Vanguard Ute | 9.5 days (57 km/h) |
| 1959 | John Thornton/Evan Green | Triumph Herald | 12.5 days (43 km/h) |
| 1962 | Jules Feldman/Evan Green | Austin Freeway | 9.3 days (58 km/h) |
| 1962 | Joe Dunlop/Ray Christie | Volkswagen Beetle | 7.4 days (73 km/h) |
| 1964 | Joe Dunlop/Ray Christie | Volkswagen 1500 | 5.9 days (92 km/h) |