Sydney to Perth Driving records
A history of Sydney to Perth driving records
1970 Citroen DS21 inter-city records
To publicise the 1970 Ampol Trial, three Citroen DS21's were driven from Perth to the east coast of Australia.
David McKay and Graham Watson drove one of the cars to Sydney and completed the trip in a little under 30 hours, an average speed on 130 km/h.
Around the world in 13 days (Wheels, July 1977)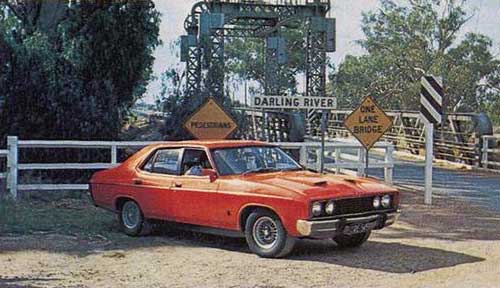 In 1977 Wheels magazine planned a 4,000 km trip from Sydney to Perth to see how quickly a pair of competent drivers in a good car could make the journey. They also wanted to test a car under these driving conditions and also to check the state of the roads. They estimated a time of 35-hours, an average speed of 115 km/h, although they weren't planning it as a record attempt.
The drivers would be Peter Robinson, editor of Wheels and his fellow journalist Steve Cropley.
For the trip, they used a Ford XC Falcon 500 GS pack that they had on loan from Ford that was specially equipped for the journey. It had a tall ratio limited-slip differential, 4.9-litre V8 engine, four-wheel disc brakes, air conditioning, a tape player and a 125-litre fuel tank.
They brought tools, some spare parts, the obligatory radar detector, and two 20-litre drums of petrol for where they think they won't have sufficient fuel range.
They estimate a fuel range of 550 km when cruising at 160 km/h.
At two o'clock on a Monday morning they depart from Terry Hills in the north of Sydney and head west, using Bells Line of Road to Lithgow.
Outside of Bathurst they up their cruising speed to 140 km/h and take a route through Nyngan to Broken Hill and then to Port Augusta.
In 1977 there was no open road speed limit in NSW and they cruise at around 160 km/h.
The first stop for fuel is at Nyngan as the sun starts to rise, a distance of 581 km. Fuel consumption works out at just over 19 l/100km.
They then head towards Wilcannia and their speed increases to 170-180 km/h, the engine spinning at 4,000 rpm or so.
At Wilcannia they fill up again and the fuel consumption works out this time to 28 l/100km, the result of an average speed of 176 km/h for the section. They are now concerned about their range when they cross the Nullarbor.
They consider lowering their speed to improve fuel consumption but decide instead to keep moving at 160 km/h plus.
At Broken Hill, they take a quick lap of the town as Cropley shows Robinson around the place where he was born and grew up.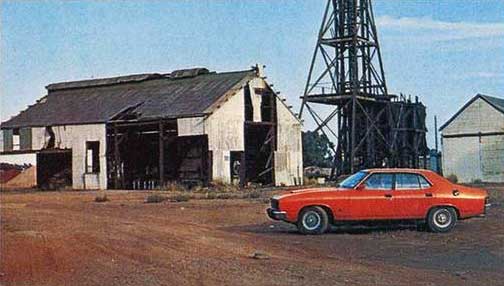 At Peterborough, they fill up again and record a slight improvement in fuel consumption. However, they only just had enough fuel for the last 490-odd kilometres so they have concerns about an upcoming 707 km section from Eucla to Norseman.
At Port Augusta, they take a wrong turn and travel an extra 60 km which costs them 40 minutes.
Robinson makes up time by travelling the next dirt section at 110-130 km/h. They don't find out until their return trip but they had damaged one of their tyres on this section, and at the same time they also discover that there is no jack in the car.
They they run out of fuel and have to fill the car at the side of the road from the drums they were carrying, but they struggle to get back on the road from soft sand on the verge. With the help of the LSD and Cropley pushing they finally ease it out.
The sun starts to set as they head towards Eucla, which makes it hard for the driver to see. As dusk approaches they drop their speed to 120-130km/h.
Both drivers start to run out of energy throughout the night, and instead of two-hour intervals, they switch drivers every hour or 30 minutes to stay awake.
Their slow progress through the night at least results in more acceptable fuel consumption, around 13.4 l/100km, and their overall average speed – 125 km/h – is still above their target.
They amble into Perth after 32 hours and 58 minutes, an average speed of 123.9 km/h for the 4,041 km ordeal. Fuel consumption works out as 23.5 l/100 km overall. All they want to do is go to bed.
Seven red lights to Perth (Wheels, November 1980)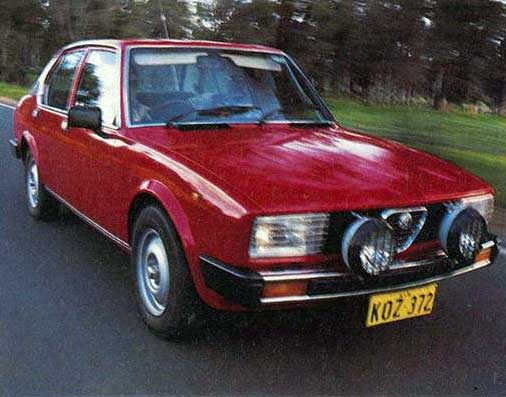 In the November 1980 issue of Wheels (Australia) magazine, Peter Robinson and Steve Cropley detailed their attempt to break the record they set in 1977 for driving non-stop trip from Sydney to Perth.
They had contemplated trying to beat their time and took advantage of an opportunity to do the trip in an Alfa Romeo Alfetta sedan. This wasn't Robinson's first choice, but he was convinced by a local Alfa dealer who wanted to move three cars to Perth and show that the distance could be done in a weekend.
The sedan was chosen rather than a coupe so as to avoid attention from the police. The car had already done 16,000 km and they fitted an extra 70-litre fuel tank in addition to the standard 49-litre tank. They also added driving lights, Koni suspension and a radar detector.
The two drivers departed Sydney (Terry Hills) early on a Sunday morning, at around 4:30 am.
Almost immediately, they had to stop for several minutes at the first set of traffic lights that they came across! But that was the one and only light they would have to stop at for a long time, and they headed out of Sydney via Richmond and Bells Line of Road.
They reached the first driver change after 412 km, and Robinson handed the car over to Cropley who had not even driven the car yet. He accelerated up to 160 km/h but found the Alfa understeered excessively at the first corner, only narrowly succeeding in keeping the car in the road.
They stopped for fuel after 582 km, in Nyngan, where they took on 107 litres.
They believed the next section would be their fastest as they had fresh drivers, daylight and wide vacant roads ahead. Their cruising speed was stepped up to 170 km/h – until they went over a crest and found a herd of sheep blocking the road. After this close call, they dropped their speed to a "safer" 150 km/h.
At Broken Hill, they had a prearranged meeting at their fuel stop with a dealer mechanic. They tell him that they have concerns about low oil pressure at high speeds and some issues when they had when switching between fuel tanks. The mechanic, having just travelled 2,400 km to meet them, tells them not to worry and they are on their way again in only 8 minutes.
They continue on to Port Augusta, where they had taken a wrong turn back in 1977, but this time take the correct route. They had an arrangement with another dealer there in case they needed any assistance, but they had no new problems to report so only briefly stopped to say that the car was running perfectly.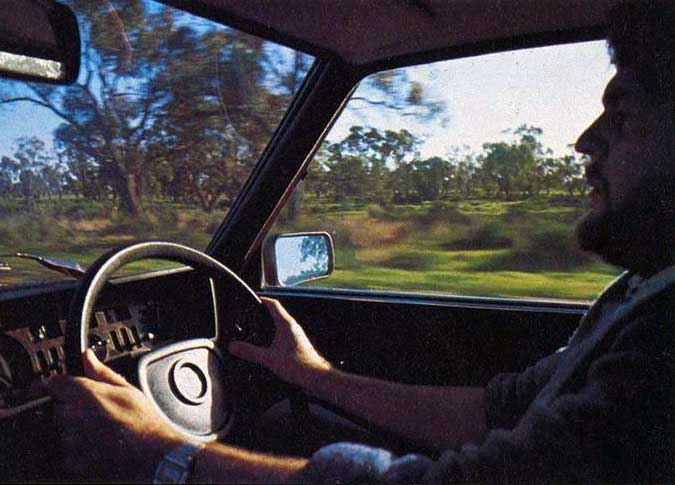 Cropley took over as day turned to night and soon the windscreen was obscured by dead insects so they discussed stopping at a service station to clean it. A small disagreement took place, Cropley saying that they must purchase at least a little fuel and not expect to clean the windscreen for free. A compromise was reached where they would clean the windscreen themselves and hand over $1 in exchange. They stopped at a service station and a worker, confused by them rushing to clean their own windscreen and not wanting any fuel, asked if they had just committed a robbery but still took the dollar.
Robinson went in and out of sleep until his turn to drive at the next stop at the Western Australia border. However, after only a short time at the wheel, he had to admit defeat and let Cropley – now nicknamed Superman due to his long time at the wheel – take over again. Robinson tries again later after Coolgardie and lets Cropley gets some much-deserved sleep.
Two hours out of Perth the engine starts losing power and their average speed starts to fall, but the problem soon fixes itself and returns to normal.
29 hours, 14 minutes and 5 seconds had elapsed since they left Sydney as they cross the Swan River into Perth and reach their destination. As Robinson parks the Alfa he crashes the driving lights into a wall - the conclusion to a very long journey.
They averaged 137.5 km/h for the trip and published this and all of their hourly averages (some over 160 km/h), and wrote about driving at speeds of up to 190 km/h. Could you imagine a magazine publishing a story like this today?
Across Australia in 29 hours and 52 minutes... in a Colt!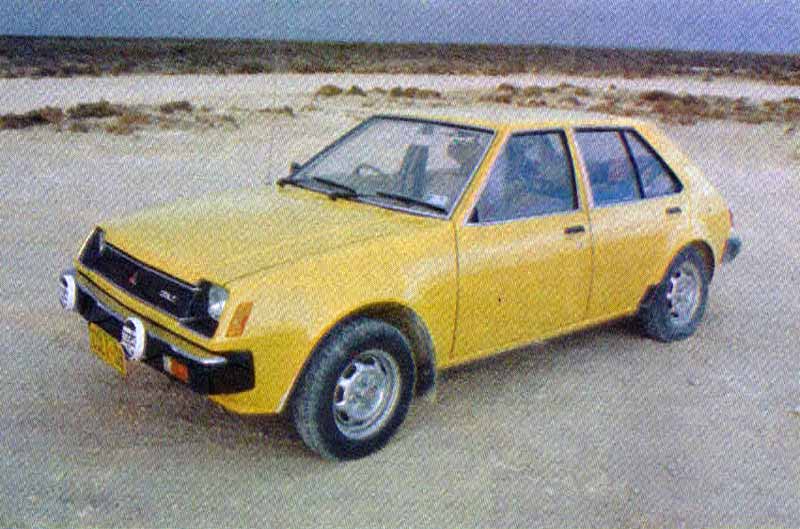 In 1981 Modern Motor magazine awarded the Mitsubishi Colt their "car of the year", and they wanted to put it to the test by driving it across the country in less than 36 hours, and prove that a small car was capable of a high speed coast-to-coast run.
They planned to drive from the GPO in Sydney to the GPO in Perth, a route that they considered more official than the one used a few years prior by their competitor, Wheels.
The car was almost as it left the factory. They chose to rely on the standard 40-litre fuel tank and not add an extra tank, and the only additions were long-range driving lights and a radar detector. They requested Mitsubishi disable the air conditioning so as to extract maximum power out of the diminutive 1.4-litre four-cylinder engine.
Although they were concerned about adding extra weight, they chose to carry a second spare wheel and tyre and a 20-litre jerry can in case they had trouble getting fuel in some of the more remote areas.
Associate Editor Peter McKay and mate Phil Harrison would drive the 4,020 km non-stop.
They departed Sydney at 3 o'clock on a Thursday morning and headed out across the Blue Mountains on Bells Line of Road. The travelled 87 km in the first hour.
They were stationery for a mere 3 minutes at their first fuel stop at Orange, having travelled 267 km. Fuel consumption was 12.88 l/100 km, which was worse than they had calculated for and cause for concern. This forced them to stop more often than they had expected and they ended up stopping 17 times in total.
The Colt was driven flat-out wherever possible. They were able to go as fast as 160 km/h except when the window slowed their progress to around 150 km/h.
In South Australia, a group of hitch-hikers attempted to stop them but McKay didn't let off and narrowly missed one of them by steering two wheels of the side of the road.
The engine was freeing up the further they travelled and in their 23rd hour they managed an impressive average speed of 157 km/h by maintaining full throttle for the entire hour.
In the interests of safety and performance, they reduced the length of their driving stints.
They travelled the West Australian highways at night, which was part of their plan, as they had been advised that police didn't always patrol the Eyre Highway after night fall. In fact, the only police they had seen so far was in the Sydney CBD. The next one they spotted was just 7 km from the Perth GPO but despite passing by it at double the speed limit, they were not stopped.
After a last-minute navigation error, they stopped the clock at 29 hours and 52 minutes. The time was a little slower than the Wheels record time but a very impressive effort given the choice of car.
Their overall average speed was 134.6 km/h and overall fuel consumption was 12.17 l/100 km.
Source: Modern Motor, March 1981
Big Cat Diary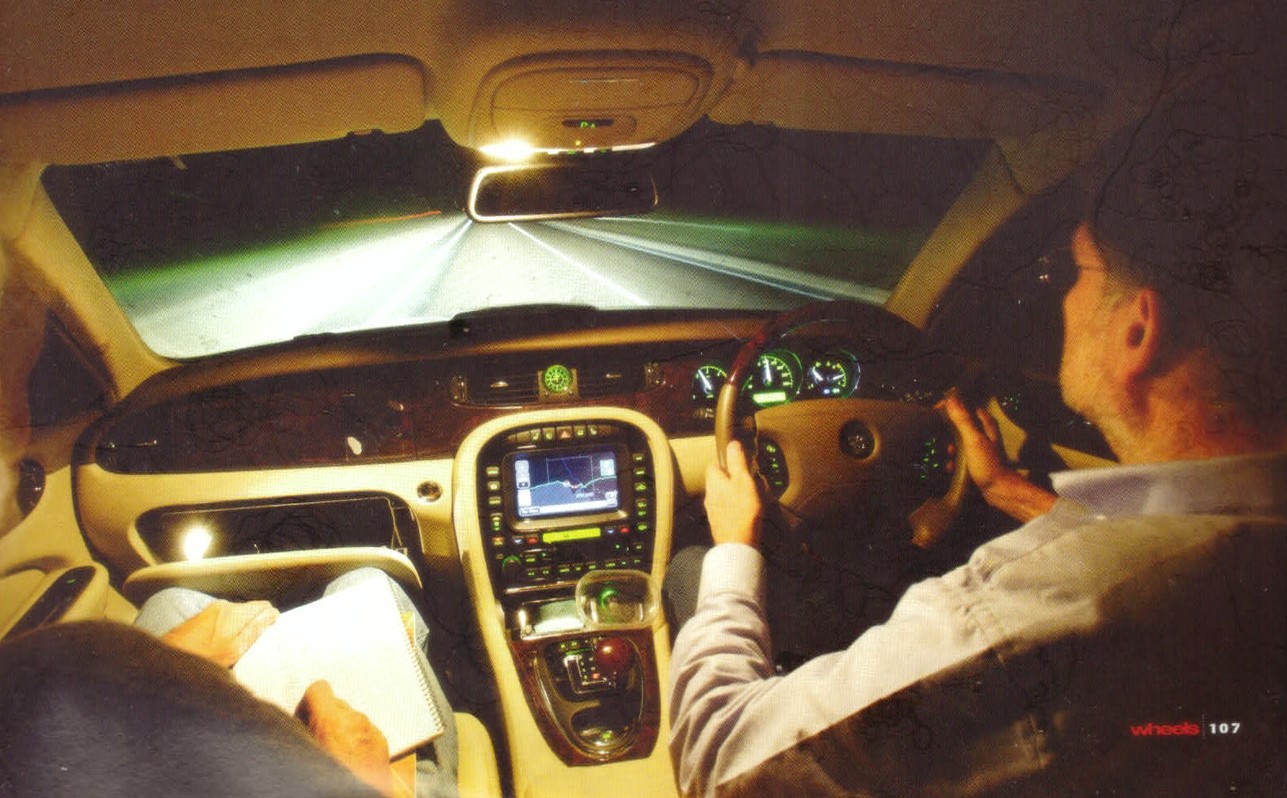 In 2007 the Wheels crew got together again for another non-stop cross-country run.
This time the route was reversed as they had an opportunity to deliver a Jaguar from Perth to Sydney.
The Jaguar was an XJ TDVi - a 2.7-litre turbodiesel model with a potential range of 1,000 km from the 60 litre fuel tank when travelling at 130 km/h.
They had no expectations of breaking their previous record (but perhaps some hope), due to the increased policing since their last attempt, 27 years ago.
Peter Robinson and Steve Cropley were joined by photographer Cristian Brunelli who would also act as third driver.
At 4:00 am on a Monday morning they departed from Perth with the sat-nav system estimating a disappointing 50 hour and 26 minute travel time and the trip computer predicting only 760 km to empty.
The first hour was spent leaving the city and suburbs and they then settled at their pre-planned 130 km/h cruising speed, that was chosen to achieve 8 l/100km fuel consumption and only three fuel stops.
However, it wasn't long before Robinson upped their speed to 140 km/h.
They cautiously stopped earlier than planned for their first fuel stop at Norseman, having travelled 723 km and averaging 8.3 l/100 km.
They were now ignoring their self-imposed 130 km/h limit and when Brunelli took over he cruised at 160 to 170 km/h, despite warning the others of "hoon laws" that meant a car could be confiscated if caught at more than 30 km/h above the speed limit. This resulted in the highest hourly average speed of 146 km/h and the worst fuel consumption (9.9 l/100 km).
Animals slowed their night time average, with a worst of 88 km/h between 12 and 1 am.
Their last 400 km into Sydney proved frustrating due to poor roads, heavy traffic and obvious police presence so they detoured to do a lap of Mount Panorama at Bathurst.
They finally entered the Sydney Harbour Bridge after 37 hours and 29 minutes - an average speed of 108 km/h. Fuel consumption was an impressive 8.8 l/100 km.
Source: Wheels, April 2007
References
Sydney to Perth (3 times!), Peter Robinson, Australian Motor Heritage Foundation