Other Australian driving records
1970 Citroen DS21 inter-city records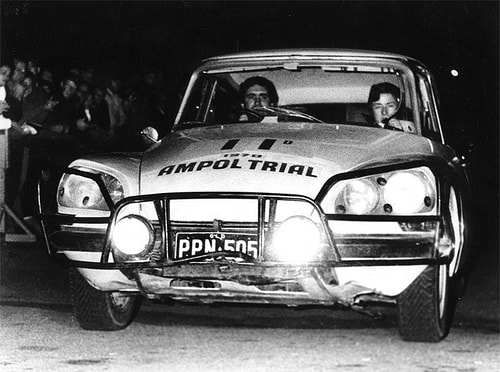 Motoring writer and racer David McKay wrote briefly in his autobiography about a mid-1970 impromptu record-setting event involving three Citroen DS21's.
The cars were entered in the 1970 Ampol Trial and arrived late by ship in Perth and needed to be transported to the east coast. With an eye to publicity, Ampol suggested that the cars be driven across the country in an attempt to set new inter-city records as a promotion for the upcoming rally.
The cars started at midnight from St George's Terrace, the main street in Perth, with one car destined for Brisbane (Jim Reddiex), one to Melbourne (Eddie Perkins and son Larry) and one to Sydney (David McKay and Graham Watson).
The cars were fitted with extra fuel tanks in Perth (55-litres) but were not yet run in so needed to be kept under 4,000 rpm for the first 800 km of the journey, which was to around Norseman. Even with that limit, the cars were able to cruise at 160 km/h but once run in, 195 km/h was possible.
In 1970, around 640 km of the Nullarbor crossing was on unsealed roads, which McKay described as "damned rough going" although he praised the Citroen for "floating over everything" at only a slightly diminished speed.
McKay wrote that his own crossing to Sydney was uneventful aside from nearly falling into a police trap outside Perth. He said they had time to stop for a shower and food at Ceduna in South Austraia, and lost about half and hour trying to find the Ampol garage in Narrandera NSW in the middle of the night, not wanting to disappoint the dealer who had stayed open for them.
They made it to the Channel 9 studios in Artarmon in Sydney in a little under 30 hours, an average of around 130 km/h. Fuel consumption was 14 l/100 km.
McKay said that it was unhurried excercise, for the Citroen was the most advanced car in the world at the time, with comfort and long legs.
Larry Perkins says that they had no problems in the Melbourne-bound car, and had no issues with the police despite running at 170 km/h much of the way. He also added that his father, Eddie, did all of the driving while Larry slept most of the way.
The time may have been 29 hours although Larry recalls they may have arrived around 7 am, which would be around 31 hours.
The run to Brisbane was completed in 35 hours and 51 minutes, an average speed of 123 km/h over 4,418 km. The same car was later driven to equal first place by Jean-Claude and France Lucette Ogier in the Ampol Trial.
Source: Scuderia Veloce by David McKay (p. 184), Wheels, January 1981 (p. 108), Larry Perkins (April 2021), and Lance Collins (via Stephen Cooke, July 2021).