Mazda 626
Driven by Warrick Jacobson and Ron Flanigan
Drivers
Warrick Jacobson, Ron Flanigan
Registration
AWT953 (VIC)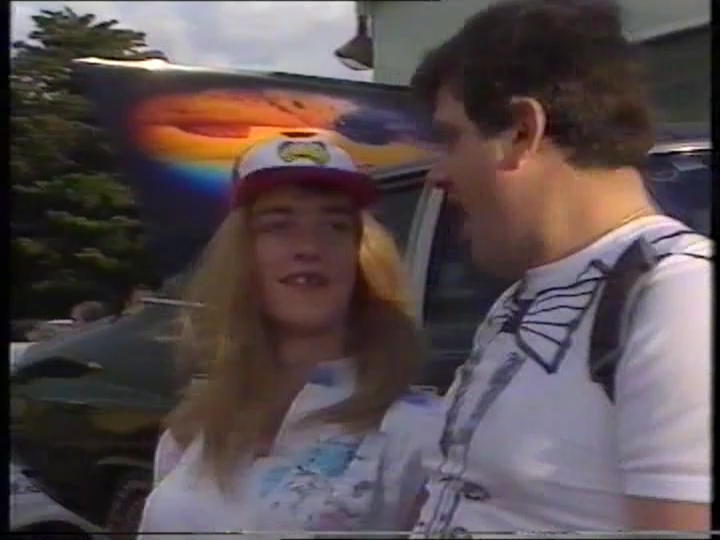 Warrick Jacobson entered the race with his boss at the time, Ron Flanigan, in Warrick's Mazda 626.
The four-cylinder Mazda was completely standard, except for some additional driving lights and a small bull bar.
They carried a 20 litre gerry can which gave them a total fuel capacity of only 73 litres.
The team dressed as a newly married couple and painted "just married" all over the car for the most imaginatively dressed team prize, and also to hopefully avoid trouble with the police.
They got lost in South Australia, which was partly due to having no interior light to read maps. The fuse had blown when they connected their CB radio at the start of the race.
They used the CB radio to order food in advance so that it was ready when they made it to a roadhouse a few miles down the road.
They were pulled over three times by police, once for a speeding fine, and then for a warning for driving at 116 km/h in a 110 km/h speed limit zone. They were also pulled over for travelling too close to a vehicle in front, in an attempt to slipstream to save fuel.
They were able to sleep during the run, but Warrick says at one point he did fall asleep at the wheel but had warned Ron he was tired so Ron took over.
They had to stop 12 times for fuel.
Despite being in probably the least powerful car, their unassuming car and disguise may have helped them be the sixth fastest team – only one and a half hours behind the winners.
The bearings in the differential had failed by the end of the race so Warrick brought the car home by train and Ron went by air.
Ron was interviewed after the race for a newspaper article and said, "If there was another one tomorrow, I'd go in it."