Ford ZF Fairlane
Driven by Andre Razums, Lance Dickinson & Steve Mears

Drivers
Andre Razums, Lance Dickinson, Steven Mears
Vehicle
Ford ZF Fairlane (1972)
Registration
IXA834 (VIC)
Result
25th – 39h 33m 33s
The car was owned by Andrew Razums, owner and co-founder of Dairy Bell Ice Cream. His co-drivers were Dr. Lance Dickinson, a chiropractor, and Steven Mears, a mechanic.
Andre bought the 1972 Ford Fairlane second hand and had it totally rebuilt over seven months, including the motor, suspension and the body. It also had improved safety features including a roll cage and safety harnesses.
The 351 cubic inch V8 engine was fitted with a supercharger and twin carburettors, and ran a special automatic transmission brought over from America. The work on the car alone cost around $20,000.
The engine was built by K&D Engineering and the body work was done by Steve Mears at Parkral Autos in Murrumbeena.
The Fairlane was black and had a wild body kit, the main feature being a huge bonnet hump which was necessary to fit the supercharger, and had gauges mounted on the rear. It was emblazoned with its name, "Trans Aust", and featured a large mural on the boot lid depicting it driving across Australia.
The car had a 28 gallon (106 litre) "Bathurst" tank for extra fuel range, and was fitted with a scanner and CB radio.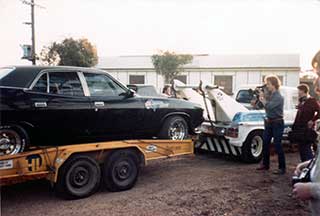 Prior to the race they did a test run from Essendon to Ballarat and back. Andre says that Lance Dickinson claimed that the car was quicker than the Porsche he owned at the time.
The car would do 90 mph (145 km/h) at 2,800 rpm and was capable of cruising at 160 mph (260 km/h).
The car wasn't quite legal, mostly because of the bonnet hump, and would have been stopped by the Victorian police at the race start.
To avoid the police, the car was put on a trailer for the start and towed to a quieter place where it could hit the road on its own wheels. They were the 11th car to start.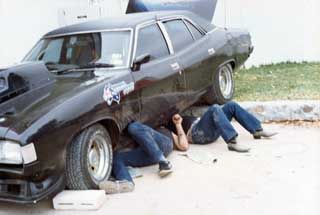 They had to stop at one point when the car overheated. The thermostat was found to be jammed so was removed. After the quick fix they were able to continue but had been passed by other teams while stopped.
Their only other stop for repair was when they ran over a brick or rock on the road which caught the exhaust. They drove the car up onto a kerb to get access underneath, and Steven was able to make repairs at the roadside. They continued on having lost less than an hour.
At Port Augusta in South Australia, the team had heard through the radio that teams were being stopped at a roadblock. Andre called up a nearby friend who brought a Ford F100 and trailer to tow the car through the roadblock. Andre says that they enjoyed chicken and champagne in the back of the F100 as they passed through the roadblock without being stopped.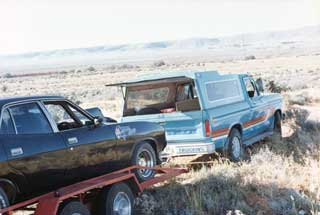 Once off the trailer, Andre recalls catching a group of six or seven teams on the Nullarbor and passing them at a high rate of speed.
They were able to avoid police on a few occasions but did get pulled up when crossing the desert. The car was defected for the bonnet hump but they were allowed seven days to get that rectified, so could continue on with the race.
After 39.5 hours they arrived at the finish in 25th position. Andre said after the race that they had been stopped nine times by police, but not booked.
At the end of the race the car was transported back to Melbourne. The bonnet scoop was changed to make the car road legal and later Andre sold the car (for around $7,000!) because he didn't have space for it, but wishes he still had it.
Lance Dickinson passed away on 28 May 2013. Andre Razums passed away on 20 June 2018.
---
Someone posted some photos of the Fairlane when it was being transported through South Australia after the race.
photos taken in Wudinna, SA on the Eyre Peninsula.

Boost Cruising
Where is the car now?
This car is for sale.
Please contact me and I can put you in touch with the owner.
The current owner has fully restored the car over the last ten years, including new paint and murals. (The photos below were taken before restoration)
This car is also presently advertised for sale.
This is my genuine 1972 Fairlane as raced in the Melbourne to Perth Cannonball cup in 1984 and placed second outright as confirmed by the original owner/builder.

I have quite a few bits of info on the race. including the original matching entrant sticker. I am also waiting on further documents (copies) that will go with it as well.

Theres been a few pics published in Australian Muscle Car magazine over the last few years of this car as well.

Anyway. I havnt driven it for a while. so I figure I probably wont miss it if I sold it. so here it is up for sale.

This car is as original as they come. real 1980's cool.

Its a genuine 351 matching numbers car. with no expense spared back in the early 1980s when it was built.

And I do have an engineers report for EVERY modification listed below. including the 6/71 supercharger and twin holly carbies. so its fully street legal which is very rare in itself.

It did actually compete in the cannonball cup (or cannonball run as it was also called - the cup was the official title) and I have everything to prove it.

I got renowned gearbox guru Paul Rogers to rebuild the extra heavy duty auto box for me about 4 years ago. and its been faultless since.

The engine could do with a really good tune up. as I had to swap the dizzy as it failed about 2 years ago and I havnt tuned it properly since. I have a replacement twin-point dizzy for it that will go with the car for anyone wanting to keep it period correct.

I do have some old dyno sheets showing 450hp at the tyres from the early 80s. so it does have a little bit of get-up and go.

The LSD 9in diff is in great order. as is all suspension and sway bars. Some of them still have stickers on them from over 30 years ago when fitted.

Even the original tyres are still on it and in good condition.

Still has all the original analogue phone. police scanners etc when fitted for the race. These of course no longer work properly as the analog network was shut down years ago now. and police etc all use different frequencies now. but it does still turn on and operate.

Full roll cage with harnesses front and rear.

Aircon is fitted but needs a new belt and re-gas.

Power steering works fine.

The twin Holly carbies have been rebuilt by Matt DeSpirit with boost referencing done. originally ran water injection to prevent detonation which is still fitted but not connected. I will also supply an adapter to place the carbies on top of the blower if you wanted to do it. but keep in mind that would make it unroadworthy and non-compliant but Ive seen many do it and get away with it until you meet an angry cop. But you'll still have the adapter fitted now to put it back again if need be.

Engine fitted with twin alternators and both working.

Actually there has been so many modifications I could be here for hours trying to type them all in. little things like twin fuel pumps. 4 wiper blades on each wiper arm. dual w/screen washers. 5 litre washer bottle in boot. twin batteries. even the tail lights have a hidden switch to turn them off (I guess thats in case the police are chasing you).

theres a few spares in the boot. including a spare blower belt and hoses.

So whats wrong with it?

Lets he honest here. its ugly. but it was really cool back in its day. It still turns lots of heads today actually. and that unmistakeable blower whine really gets people wondering whats in it.

It has ALOT of inspiration from Mad Max. but its all legal as noted on the 13-odd pages of engineers reports which are included.

The paint is starting to lift on the bonnet in a few places. but that can easily be fixed up.

Theres a small leak coming from one heater hose that I will fix up shortly as its spraying coolant straight onto the dizzy.

Apart from that its in pretty good shape.

Now. where are you going to find something as original as this. with engineers reports for the blower?

I'll answer that for you right now. you will seriously struggle to find anything like it.

If you wanted to build something cool out of it using this as a base car then its ideal as everything is already there. its registered until 6th January next year - yes nearly 12 months rego - and the engineers report is still acceptable as its still the original engine.

It would be nice to see this car go to a collector due to its history. but at the end of the day the owner could do whatever they like.

Seller in Maryborough, Victoria on Car-from-UK.com (9 photos)
---
I found this photo of the car at Summernats 2013.
At least three videos of this car have been posted on Youtube.