Capricorn Run
An event planned for 1986 but possibly never ran
I was reading through an old Motor Manual magazine from February 1986 and came across an advertisement at the back for this event: Capricorn Run 1986.
The advertisement reads:
It is said that the Cannonball Run (in the USA) is the most exciting event ever to be organised. Believe me it is! Nowdays, just to be able to say that you competed in the Cannonball Run is demonstration of the high standard of the participants driving skills.

Unfortunately for Australians, no one has ever dared to come up with an event as exciting, unless you consider Wynns Safari, which basically was designed for the roughest, toughest 4WD's around.

However, Murphy Clark International have decided that it is time. Time to show Australians that they haven't been forgotten, and to give them the time of their lives! After all, if the Americans can do it... why can't we?

Murphy Clark International proudly present to you...
The CAPRICORN RUN - AUSTRALIA'S PLAYGROUND TO PERTH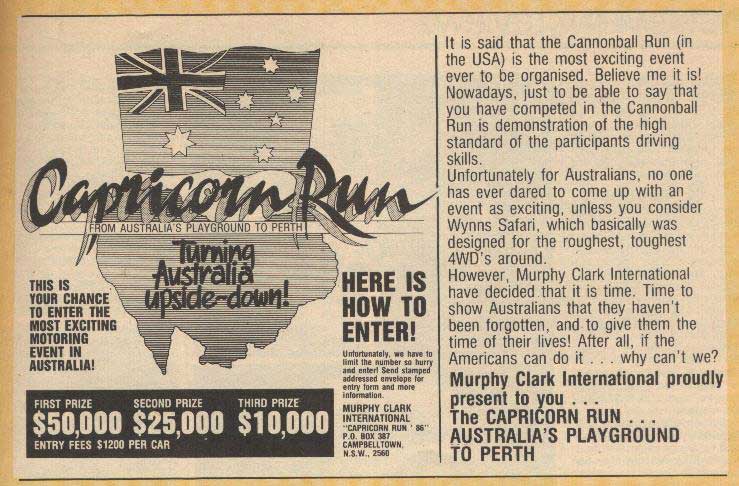 Having read this I was excited to find out more about this event but I could find nothing at all searching online, either by searching for the event name, the organiser's name or even the address!
The text makes it sound like the organiser has participated in the US Cannonball Run so I looked through the race results for the name Murphy or Clark but there were no entrants with either of those names.
Based on this lack of information, I'm guessing that the race never went ahead. I know that Brock Yates advertised the first Cannonball Run in a similar way but I suspect an advertisement like this in Australia in 1986 might have attracted attention from public officials and been stopped.
I'm guessing "Australia's Playground" might be the Gold Coast. Google Maps shows this as a 4,373km trip (in 2016) and a time of 45 hours (at the speed limit). There is only two routes suggested by Google so there isn't quite the variety of route options that the US cross-country races offer, and it would probably be easy for the race to be stopped by road block.
The Capricorn Run was mentioned in a question in parliament.
Ms MAYER -My question is addressed to the Minister for Transport. Has his attention been drawn to recent Press reports of the high speed car race entitled the 'Capricorn Run' in which the target time for the distance Brisbane to Perth is 29 hours, requiring an average speed of more than 100 kilometres an hour without a break? Given that road crashes cost the economy $3,000m annually and 3,000 Australian lives, what action is possible by Government to prevent this lunacy?

Mr PETER MORRIS -I have seen the report to which the honourable member has referred and I think everyone in this House who has seen it would share my sadness that this kind of competition is being promoted. All honourable members would agree that the most horrific social problem in this country is death and casualties on the road. The article to which the honourable member referred was published in the Daily Mirror and was entitled `Brisbane to Perth in 29 hours'. As she correctly said, to achieve that target time would require an average speed in excess of 100 kilometres per hour. That speed could not be achieved within the law and, sadly, the example it sets for young people to emulate is the very thing which is most likely to lead to death or serious injury on the roads. The article goes on to say that most vehicles competing in this race would have as standard equipment radar jammers, radar detectors, citizen band radios and brake light isolator switches, and that some participants have even invested $5,000 to buy infra-red night vision devices which would allow them to run without lights, thereby avoiding visual detection.

Mr Goodluck -Who is sponsoring this?

Mr PETER MORRIS -It is called the Australian Cannonball Run. I have not got a list of sponsors; I would have to check that. Budget Rent A Car System Pty Ltd appears to have entered a prestige fleet in the race. I will get the honourable member a list of the firms later. This kind of exercise encourages the very antithesis of the things we are trying to develop in young people who use the roads. Rather than developing responsibility, it will encourage irresponsibility; rather than encouraging a cautious safe speed, it will encourage high speed; it will also encourage driving long distances in a fatigued state-

Mr Donald Cameron -What are you going to do about it?

Mr PETER MORRIS -I am drawing attention to the dangers that are involved in this race, to the very flouting of the law that is proposed in order to achieve the target of this competition, and to the risking of young people's lives that is involved. We, as a government, have given very clear direction and priority to changing community attitudes and behaviour and driver attitudes and behaviour on our roads in an effort to reduce the level of road casualties. Car racing belongs to the race track, not to the highways or the roadways of this nation. I have every expectation that the State police and enforcement authorities will be very vigilant about this exercise. I want to see them do everything they can to ensure that the law is complied with and that the requirements and regulations are followed by the participants. I make one last appeal to those people who are associated with this exercise: Have another think about it, draw back and retire from it, and instead use your resources to encourage people to use the roads safely in an effort to reduce road casualties.

Question raised in Parliament on Wednesday, 21 May 1986
There is mention of an article in the Daily Mirror newspaper entitled 'Brisbane to Perth in 29 hours', but I can't find that article.
This also suggests that the race was to start in Brisbane.
---
PS.
I've since heard that The Capricorn Run was a con-job. It seems that the organiser, who may have been a sales person at a Sydney car dealership, just wanted to take people's money.