Northern Territory Cannonball Run
A legal event run in 1994 in The Northern Territory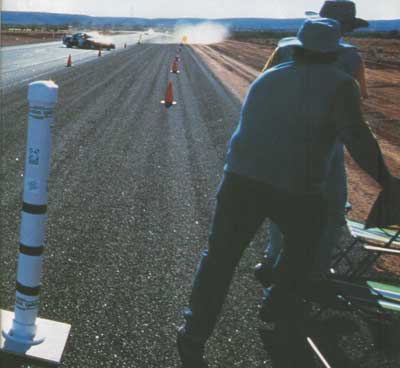 The 1994 Cannonball Run was a legal event run in the Northern Territory, Australia from 22 May to 27 May 1994. The race was marred by the death of two entrants and two race officials.
The photo on this page, from Wheels magazine August 1994, shows an out of control Ferrari F40 seconds before crashing into a checkpoint.
The route was approximately 4,000 kilometers, from Darwin to Alice Springs, and back.
Motorsport legend, Allan Moffat, was one of the organisers of the event.
Because of the deaths, and the controversy that ensued, this was the one and only Northern Territory Cannonball Run.
There's a lot more to the story of the 1994 Northern Territory Cannonball Run.
I strongly encourage you to visit the excellent website devoted to this event, cannonballrun.info, and read not only about the race, the cars and the drivers, but about what went wrong and who was to blame for the deaths.
The website has many photos and videos of the interesting and exotic cars that participated, and media reports from the time.