Cannonball Europe
Ran 5 times from 1981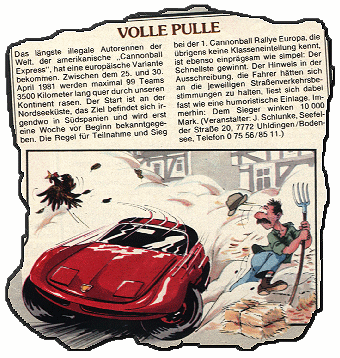 I can find almost no information about this race, that ran five times from 1981. The story below was based on the information from this page written in German. The author of this page participated in the 1981 and 1982 Cannonball Europe races but I could not find his name.
Having followed the US Cannonball races, our author was captivated by an advertisement for the first Cannonball Europe he saw in Playboy magazine.
Here is a poor translation:
LET HER RIP!

The latest illegal motor race of the world, the American "Cannonball Express", has got a European variant. Between 25 and 30 April 1981, a maximum of 99 teams will race 3500 kilometers across our continent. The start is at the North Sea coast, the destination is somewhere in Southern Spain and will be announced only one week before beginning. The rule for participation and victory in the 1st Cannonball Rallye Europa, which does not know any class division, is just as simple as it is simple: the fastest win. The note in the call for tenders, the drivers have to keep to the respective road traffic regulations, reads itself almost like a humoristic contribution. After all, the winner is waving 10,000 marks.

Google Translate
He secured himself an entry into the race and was now considering what vehicle to use for the race.
At the time our author worked in IT and Mercedes-Benz was owned by one of his customers.
He managed to charm an assistant to a Mercedes department head, who was purchasing her own Mercedes Mercedes-Benz 380SL (W107), to enter the race with him and use her car.
The race was to start on April 25, 1981 in Stovring, in the far north of Denmark, which was a quiet place at that time of year, until the arrival of around 100 vehicles that were participating in the race.
Our author recollects models from Mercedes, Porsche, BMW, Opel, Ford and Volkswagen, and a Lotus Super 7 or Morgan. He also notes the presence of another Mercedes, a 450SE ute (W116)!
Having heard of the US races, our author decided on a strategy of he and his co-driver pretending to be just married and heading home, and they dressed appropriately.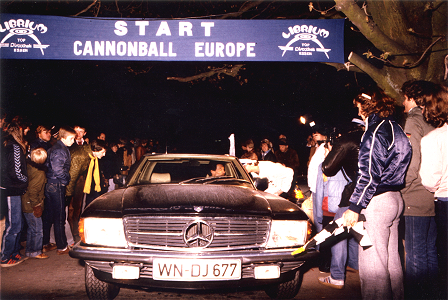 The race started at 10 pm and they progressed through Denmark at a restrained pace due to the lack of motorways.
Once across the border into Germany they could drive flat out. They travelled through Hamburg, Hannover, Kassel Frankfurt and then crossed into France at Strasbourg.
Travelling through France to the Mediterranean was slow.
They found that side winds caused the Mercedes' windows to repeatedly slip out of their seals a tthe upper edge of the hardtop, which caused a lot of noise at speeds over 200 km/h. The solution was to back off, and run the (power) windows down a little then back up again, and they did this many times.
They ate chocolate bars and muesli and drank orange juice.
From Marseile they went on to the Spanish border at Narbonne. Here the field was widely dispersed, and competitors drove their own race against the clock and fatique.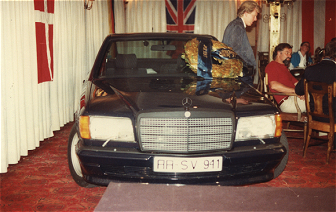 The motorway ended at Alicante and headed to Granada. From Murcia our team decided to drive across the mountains to Granada and Malaga. Some drove via the coast and regretted it.
At Motril they joined the coastal road and were within 150 km of the finish which was at Atalaya Park Hotel, at Marbella.
They reached the finish in 24th place after 25 hours of driving, having travelled a distance of over 3,500 km.
The winning team was from Hamburg and drove a Mercedes-Benz/AMG 500SE (W126) that was fitted with an additional 90 litre fuel tank. They reportedly only had to refuel a few times (using two fuel pumps), compared to our author's approximately 8 fuel stops.
---
1982 Cannonball Europe
The author planned to race again in the second Cannonball Europe, in 1982, but this time he wanted to finish closer to the front and thought a 500SE Mercedes to be the most suitable vehicle.
Having just received a company car, he sold his personal car and used the proceeds to rent a Mercedes 500SE (W126).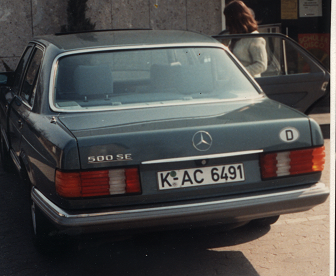 From a scrap yard he purchased a fuel tank of approximately 100 litres out of a truck which with the help of an additional fuel pump would pump fuel into the main tank.
He also obtained a device to block radio transmssions.
For his co-driver he was able to secure the top female driver who he knew from a rallying club. Their plan was to again dress as newlyweds as a disguise.
The event had received a lot of publicity and press and at the start on 27 March, 1982 they decided against using the extra fuel tank and radio jammer.
The first teams departed at 11 pm. Our team departed in third position, at 11:03 pm.
Their disguise and use of a rental car helped them get through various inspections and border crossings.
Their strategy appeared to be paying off, and at a refuelling stop in Valencia they actually met the Porsche 930 that went on to win.
Between Valencia and Alicante, while travelling at around 180 km/h another car changed lanes into them and caused some minor damage and also a half-hour delay exchanging insurance details.
They crossed the mountains around the Sierra Nevada at night, cautiously refuelled, and then joined the coastal road to Marbella.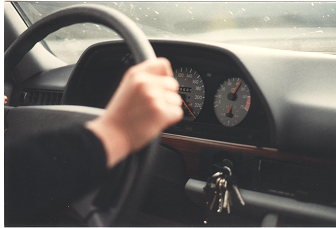 They finished at the Don Carlos Hotel in Marbella in 8th place, just a minute behind the 7th place vehicle, the last fuel stop having not been required and costing them at least one place.
They returned the rental Mercedes with scratches, covered in mud, and also with a malfunctioning automatic transmission, having endured so many kick-downs.
Including the return trip, it had travelled 7,464 km exactly and the rental bill came to DM 6,417.45.
There were three more Cannonball Europe events, the last with 26 participants. Unfortunately the organisers pictures and documents were confiscated by the authorities and never returned, so the photos on the author's page are some of the only remaining.
Our author did not race again after the 1982 event, but did develop a love of the Mercedes W126 and went on to purchase one.