Holden VH Commodore
Driven by Barbara Langshaw and Mark Kent
Drivers
Barbara Langshaw, Mark Kent
Vehicle
Holden VH Commodore
Registration
YNU982 (ACT)
Result
14th – 35h 57m 41s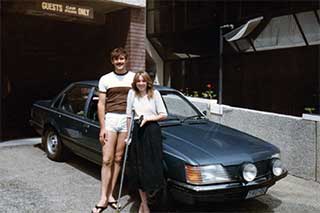 Mark Kent was the owner of the VH Commodore which he bought new in 1982. It was a 4.2-litre V8 with 4-speed manual gearbox.
The other driver was Barbara Langshaw, and they were engaged at the time.
Both drivers were active in club level rallying as drivers, and Barbara also navigated for Mark on some occasions.
The car was unmodified except that the air filter lid was turned upside down to let more air in, a common trick with the 4 barrel carburettor on the Holden blue engines. Mark fitted some Cibie Super Oscar spotlights which were borrowed off his rally car. They also had the radar detector that was offered by the organisers and a CB radio.
The team was one of the first to start, at around 8 pm. They were cruising through Victoria at around 140 km/h and at one point were overtaken by the Kovacs/Walsh Holden One Tonner. They tried staying with the ute at 160 km/h, but Mark says that the ute out-handled them, so they backed off and resumed cruising at 140 km/h.
They upped their cruising speed to 160 to 170 km/h once on the Nullarbor but found that they were using a lot more fuel. They calculated that if they ran at 140 km/h they would have to stop less which would be quicker overall. The excessive cost of fuel across the Nullarbor may have also been a factor in the decision.
The two drivers initially took turns at driving, swapping seats when they stopped for fuel. But by around Norseman (Western Australia) they were getting very tired and started swapping at more regular intervals. They made a few stops from Albany to Perth just to walk around the car and wake themselves up. Mark doesn't recall being able to sleep in the car.
Mark says that their radar detector worked well and paid for itself many times on the race. They were stopped twice by police in Western Australia, but weren't booked.
The first stop by police was near the end of the Nullarbor where they were travelling with another team (possibly a black Fairlane) and slowed to 110 km/h when their radar detector sounded. The police claimed that they had been clocked by aircraft, although Mark says that a plane would have been obvious had there been one. They were let off with a warning.
The second stop was near Ravensthorpe, again after their radar detector sounded. Despite slowing to a legal speed a highway patrol car that was hiding in bushes pulled them over and inspected the car for road worthiness. Mark suggested that they may have been disappointed to find a stock standard engine and their only comment was about the spotlights.
Somewhere between Albany and Perth early Sunday morning they stopped at a town needing fuel, and were worried they wouldn't make it to the next town. The service station was closed and they were joined by another team in the same predicament. Fortunately the service station owner lived in an adjoining residence and they were able to eventually wake him by throwing rocks on his roof and get refuelled.
They arrived at the finish after around 36 hours, in fourteenth position.
The Commodore had no issues with reliability, as it was near new.
Mark says that the race was one of the greatest road trips and adventures of his life, "Something every car enthusiast should have the opportunity of doing." He continues to race, but now only in sanctioned events.