Chrysler VH Valiant Charger R/T E49
Driven by Robert Paterno and Alfio Paterno
Drivers
Robert Paterno, Alfio Paterno
Vehicle
Chrysler VH Valiant Charger R/T E49
Registration
RTE049 (NSW)
Result
19th – 36h 59m 44s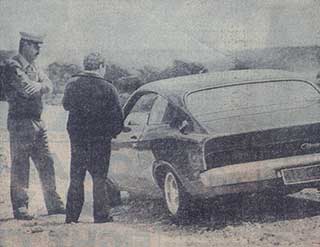 Robert entered the race with his father, Alfio, in Robert's Chrysler Charger. He had originally intended to drive with a friend but a concerned Alfio insisted on co-driving.
Alfio had a 5.8-litre Ford LTD himself, so was no stranger to fast cars.
Robert had bought the Charger new and ordered it with the optional 36 gallon (136 litre) "Bathurst" fuel tank.
For the race he had a taller final drive ratio fitted.
By Eucla they were running in the top five but Alfio got caught by the police and got locked up, costing them two hours.
After the race Robert had to attend court in Norseman and caught a ride there with another team.
The West Australian, 6 November 1984, reported that Robert Paterno was caught travelling at 180 km/h on Eyre Highway. He appeared in Norseman Court on 5 November, fined $250 and suspended from driving for three months (throughout Australia). Another article reported that he had been late to court and a warrant for his arrest had been issued.
The same article in the West Australian reported that Alfio Paterno was to appear in the Eucla Magistrate's Court on a charge of dangerous driving.
Robert also ended up paying all the costs of participating, including his father's fines.
Robert sold the car a long time ago for what was a good price at the time, but this particular model is now selling for around $100,000, and twice that with the Bathurst tank that Robert did have.
Alfio Paterno passed away in 2013.
In Australian Muscle Car #56, another competitor, Allan Fielding recalled the Charger team.
One car I distinctly remember was owned by a bloke from Sydney and his father.

They were Italian and owned a pizza restaurant, I believe. It was an E49 Charger. Absolutely immaculate and he drove like there was no tomorrow!

At one stage we took a shortcut across from Berri to Port Augusta, which include some dirt roads. The Charger passed us on a sweeping bend, dirt road in the early hours of the morning at warp speed. Mind you, we were making pretty good time ourselves!

When we got to Perth, all his father could say was, "My son, he's a-crazy; he's a-crazy!"

I remember that the Charger was rattling really bad.

Allan Fielding in Australian Muscle Car, 56