Ford XY Falcon GT
Driven by Jerry Brown and Les Dean
Drivers
Jerry Brown, Les Dean
Vehicle
Ford XY Falcon GT
Result
23rd – 38h 33m 28s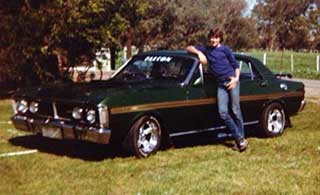 Jerry Brown and Les Dean were both truck drivers and entered the race in Jerry's Ford Falcon GT.
For the race they built a large steel fuel tank of approximately 120 litres that occupied the whole boot. They also carried spare wheels and tyres in the back seat.
Being professional drivers, avoiding losing their licenses was a major consideration.
They had a well thought out plan for their race tactics. Drive at 60 mph (100 km/h) until Bendigo, Victoria. Drive at 80 mph (130 km/h) for the rest of Victoria. Cruise at 100 mph (160 km/h) across the desert. Back off to 80 mph (130 km/h) in Western Australia.
Like many plans, it went out the window when they encountered a problem.
They were going well and in contention until Berri, South Australia.
Prior to the race they had new front tyres fitted and the front end checked, but at Berri they found the front tyres to be completely bald. This was as a result of the person who carried out the work having left the camber bolts loose.
They did a wheel alignment using a piece of string in the dark losing two hours, then set about making up time from Berri to Norseman, Western Australia.
Near Port Augusta, South Australia, they were held up again when a fan blade broke off damaging the radiator. They found a wrecker and replaced the fan and fixed the radiator, but lost more time.
At Norseman an inspector noticed the extra fuel tank and realised they were part of the race. He warned them that the police were waiting for them.
They were cruising at 80 to 90 mph (130 - 145 km/h) but caught by police. A friendly officer dropped the charge to a more reasonable 130 km/h and warned them of the roadblocks ahead. He advised an alternate route to avoid the roadblocks.
They then continued to make good time until dark when the Ford's headlights failed them, resulting in another one and a half hours lost to fix them.
Jerry says that they averaged 19 mpg (15 l/100km) and had a range of around 960 miles (1545 km).
They made it to the finish in 23 position, after 38 hours and 33 minutes.
They had the front end fixed properly in Perth and, like many teams, Jerry says that the trip back was quicker than the actual race. That was even after they hit a kangaroo south of Mildura, Victoria, requiring repairs to the Ford's bonnet and mudguard.
Jerry says he would do it again tomorrow, and it was the best fun he'd had and was a great group of people.
The car is now owned by Jerry's son who is in the process of a full rebuild.
...why did we do it? I'm sure different reasons from many, a good question to ask. Also I have noticed the ages of those who did it, be good to know that too.

From our point of view, I was 44, Les about the same. Les and I spent our lives 24/7 taking on transport authorities and police in all states and draconian transport laws just to make a quid.

We had both had 1 day from our last trip from far north Queensland taking produce to Melbourne markets which we did every week. 2800 km one way running express in 27 hours, so time and distance we were used to it. Truck I had at time was designed and built for economy to cruise at 125 km/h, day and night, so the cruising speed didn't worry us.

Rule of thumb, to average 100 you need to cruise at 120, just a different mode, so I think we really wanted to just stick it up the authorities.

Personally I got back my racing bug and went back to speedway 2 years later and raced sprintcars for many years, selling my fully restored sprintcar to a sprintcar museum in Young, NSW only last year...

Jerry Brown