Ford XB Falcon GT
Driven by Butch Hollier and Greg Bailey
Drivers
Butch Hollier, Greg Bailey
Vehicle
1974 Ford XB Falcon GT coupe
Registration
BYW299 (VIC)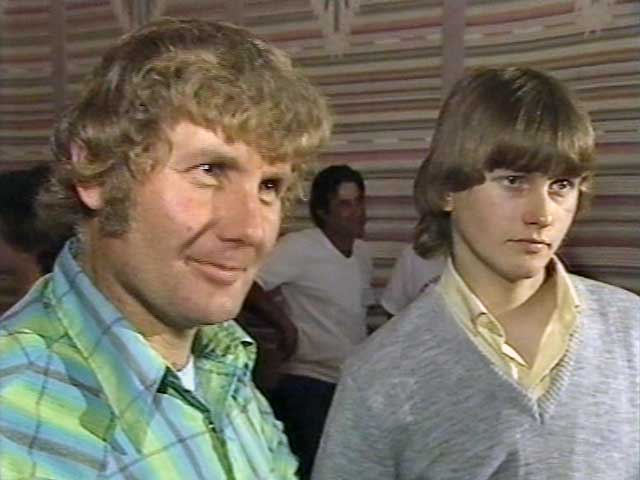 Car number 3 consisted of friends Walter (Butch) Hollier and Greg Bailey, both from the Ballarat area in Victoria.
Butch was a truck driver and Greg was a mechanic who had previously worked as an race engine builder for Garrett Turbos, race mechanic for Alan Jones/Cullan Racing ANL, and also with Peter Brock's Holden Dealer Team. At the time of the race he had his own workshop and was also a motoring journalist so he wore a paper bag over his head to hide his identity.
The car was a 1974 Ford XB Falcon GT coupe and was purchased specifically for use in the race by Butch as an unregistered ex-drag car complete with tunnel ram and twin Holley carburetors protruding from the bonnet.
Greg did the preparation of the car for the race, removing the suspension and engine modifications that were unsuitable for the road. Changes to the 351 ci engine included a Victor Junior intake manifold and an undersized 650 cfm Holley carburetor, chosen for fuel economy.
The car was also fitted with twin fuel tanks for extra range, and 15 inch 60-series tyres.
The team drew the third starting position but got lost on the way to the start location and missed their spot. They arrived late and were allowed to start immediately after the 17th team.
As they were one of the last teams to leave they chose to take a route taking them through NSW hoping to avoid the traffic and police.
Greg says that they had a very fast run to South Australia and that they were the third team to arrive at the first checkpoint in Berri. The only problem they had was the rising sun and a blanket of fog made it difficult to judge the depth of the dips in the road. Hitting these at speed eventually resulted in wearing through one of the exhaust brackets, which they had to use wire to replace.
They made it to Port Augusta at 5:10 in the morning only to find the police setting up a roadblock and stopping all traffic at a bridge, obviously looking for Cannonballers. They looked for an alternate route without success, and after a few hours they decided to try their luck and follow some other cars through the roadblock.
They were stopped by police who already knew that they were part of the race and issued them with an unroadworthy notice for excessive exhaust noise, preventing them from continuing. Greg recalls the officer saying, "Your race is over."
The car was to be impounded but when the police left Butch and Greg removed the notice from the windscreen and headed back to Victoria.
They had traveled 1,050 km to Port Augusta in 9 hours and 20 minutes without having to stop to refuel, an average speed of over 110 km/h.
Greg, now proprietor of Ballarat-based workshops Check Point Auto Group, says that not continuing is a regret that comes back haunt him every time the race comes to mind.