Ford P5 LTD
Driven by Phil Hansen and Scott Sieger
Drivers
Phil Hansen and Scott Sieger
Registration
IEJ805 (VIC)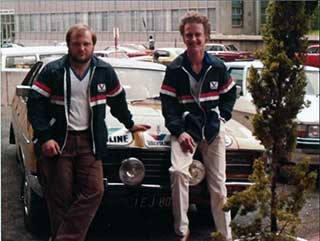 Scott Sieger sponsored Phil Hansen's (his apprentice at the time) entry into the race and vehicle modifications, and also co-drove.
The team was initially to be sponsored by Valvoline and a local newspaper, but this was withdrawn once the legality of the race came into question.
The LTD, Ford's flagship model with automatic transmission and air conditioning, was standard except for a larger exhaust and had been dyno tuned to improve performance and fuel consumption for the race. It had done around 160,000 km.
Scott says that they were one of the last teams to start and recalls being photographed by the police and escorted out of the state at reduced speeds. He said that there were more than 100 teams at the start but many didn't make it through the gate.
Once they got to the South Australian border the Victorian police disappeared.
Fortunately they made it to Western Australia before roadblocks were set up.
They were not booked or arrested during the race.
Scott had an interview published in the West Australian (6 November 1984) where he discussed the race and a possible second race.
While I can not talk for Phil there were a few reasons I participated:

* Hoping that the rally would become an annual and legitimate event and wished to encourage it's evolution. * Wished to use the event as a "fine tuning" endurance focused learning tool for both myself and my apprentice at the time, Phil. * Team work (one flat tyre change - driving/snoozing in the big back seat/driving etc) * Air conditioned comfort. * Have a heap of fun

The Eyre Highway was too tempting a challenge. From Ceduna SA to Norseman WA it was 1200kms of sealed road.

If I recall correctly...

Setting up the stock 351 (160k's) and working out what carburation was best suited, finding that the Autolite, with a bit of tickling was ideal for high speed (240KPH+ cruising) whilst making use of the FMX trans and LSD's. Moving a slightly larger diameter exhaust,with just enough back pressure to balance the carb. (standard manifolds)

Factory over size fuel tank and mods to suspension to get rid of the float at high speeds over road undulations. You know the sort of float I mean...the sort that gets real scary at high speeds even if traveling in a straight line as was mostly the case.

Did we actually travel at 240kph for 5 hours or so straight... I am not going to confirm or deny... (chuckle)

Suffice to say the weather was perfect, the road clear and the "bubble trouble" in the sky was not too much of a problem. (then when we got close to Norseman all hell broke loose)

Result:

The LTD performed marvelously and a big credit to head driver Phil's driving skills especially during the dirt section through the forests in WA.

Scott Sieger