Holden HQ Monaro
Driven by Indo Saarelaht, Heino Saarelaht and Kurt Seeberg
Drivers
Indo Saarelaht, Heino Saarelaht and Kurt Seeberg
Registration
CHX139 (VIC)
Result
21st – 37h 33m 19s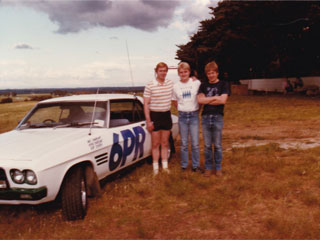 Bothers Indo and Heino Saarelaht entered the race with their uncle, Kurt Seeberg, in Indo's Holden HQ Monaro.
Indo had bought the car without any engine or gearbox and missing most of the front panels. He repaired the car and fitted a reconditioned engine with 4-speed gearbox.
For the race, an extra fuel tank was fitted along with 2-way radio and a radar detector.
Indo had previously raced speedway hotrods. Kurt Seeberg had raced in the Australian Drivers' Championship.
They were the 22nd team to start and made their way out of Victoria in the evening.
The team took two hour driving stints until Western Australia, where whoever seemed the most alert drove. Indo says that it wasn't possible to sleep in the car and they were very tired by the end of the race.
They drove as fast as possible but kept to the speed limits in the towns.
The Monaro had a good fuel range thanks to the extra tank, and had no mechanical issues during the race.
None of the team were booked until just inside Western Australia. Indo says that the WA police were aggressively antagonistic towards the racers. They got stopped again near Perth, but weren't speeding at the time, and then stopped a number of times in Perth and told that it would be best if they left the state.
The team finished in 21st place on Sunday morning, with a race time of 37 hours and 33 minutes.
A sponsorship agreement had been made with Perth radio station 6PR for them to pay for fuel, tyres and signage but after the bad publicity that the race received the radio station refused requests for payment after the race. In retalliation, the car – complete with the large 6PR stickers it raced with – was left parked outside the station's offices for a couple of days.
Indo says that the whole race was well done, including the dinner at the end. He was glad to have participated.
Indo went on to race the following year in the first running of the Wynns Safari, an off-road race from Sydney to Darwin.
The car was sold after the race. Indo explained, "I took the stickers off and sold it to a young bloke who left two black marks up my street when he left."
---
The Saarelaht/Saarelaht/Seeberg team put together a folder of maps and route information that they had researched for the race, which you can download below. Note that the start was originally due to be from Melton, not Diggers Rest.
---