Holden VH Commodore
Driven by John Hassard, Ian Bray and John Crowle
Drivers
John Hassard, Ian Bray, John Crowle
Vehicle
Holden VH Commodore
Registration
CFV894 (VIC)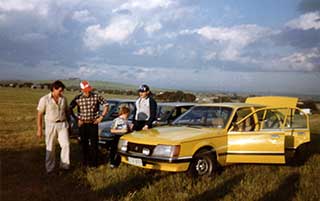 The ex-police Holden VH Commodore was owned by John Hassard and his co-drivers were his good friend, Ian Bray, and Ian's neighbour, John Crowle.
The team finished with a time of 33 hours and 4 minutes, and were awarded the win some time after the race, when the organisers disqualified the Kovacs/Walsh team.
John Hassard tells the story of their race...
The 84 Cannonball Run was great fun and a real challenge. Ian Bray and myself along with Ian's neighbour, John Crowle were a team of three with a lot of kms to travel as quickly as possible. My car at the time was an ex police VH Commodore. A very reliable vehicle and not much was needed to tackle the event. An additional fuel tank was fitted into the boot for much greater range a service and a good check over. With the transmission being the only issue which needed looking closely at. My vehicle and I guess that model had an issue with blowing out transmission hoses, so better quality hoses were fitted to prevent the problem from occurring during the event.

In the first section instead of the main highway to Mildura we went off to the left and although possibly just as long, we thought we could better keep away from the police and perhaps go a bit faster however the police were around no matter where you went. We had some trouble along dirt roads with deep bulldust and had to stop and clean out under the front of the car at one stage when the Holden ploughed into the deep dust. We probably didn't get to the first checkpoint any quicker but stayed out of trouble with the law.

We didn't stop too often with the extra tank being not only useful but totally necessary, only stopping for a quick toilet break, whilst refuelling vehicle and this happened all at the same time with all drivers in sync with one another.

When we got to the second check point there was nobody there. We had to find a public phone and call Perth for instructions. Others that arrived after us had found people at the checkpoint and received maps to the finish, which would have been really helpful.

That last leg into Perth was interesting and although we had tried to sleep along the way it wasn't too successful and we were getting very tired and sleepy. I remember seeing steam trains and ocean liners come out of the bush and cross the road in front of us.

The Commodore performed really well except for the steering at speeds. I found out later that power steering in this model was a problem that the police force had and that later pursuit cars came without the power steering. As anything above 160Km the car would wonder from side to side no matter how hard you held on. Even by bracing your arms on your legs to try and get stability the car would still wander.

During the event we were always unsure of how well we were doing, as we just didn't see many competitors to gauge our position. By 2nd checkpoint we knew we were doing well by the fact that the checkpoint was yet to be set up. We kept on the gas pedal and hoped for the best although we knew there were competitors ahead of us.

At the end of the day we weren't there first and missed out on Shirley Strachan handing a cup and cheque over to us, but picked up the cup some time down the track after disqualifications. And that brings me to the rest of the story.

The Cannonball Run was organised by David Adamson a nice guy however a bit of a slippery character in some ways. He came up with the concept it seemed like a great idea and he went for it. I think the idea was to run the race first person wins and the sales of the documentary around the world would make him a lot of money and a household name.

He was dealing with competitors and all was well then he had to deal with the media and then the Police Force. I am sure he was telling everybody what they wanted to hear and it must have been really difficult trying to run an all-out race across the country and yet keep the police from the door. It would have been a fine balancing act and the fact that the Cannonball Run went ahead was a credit to David.

At the pre-race briefing it was clear that David had toned down the talk and as can be heard on the tape of the night he said, "any drivers that got booked for exceeding the speed limit by more than 30 kms or was penalised by the police for any major infringement would be disqualified." The reason as he stated was so he could run another event the following year. The real reason in my opinion was probably because the Vic Police had laid down the law - do the event within the law or suffer the consequences. To his absolute credit the Cannonball Run went ahead.

We understood that if we were booked for anything too extreme we would be out. It doesn't mean we didn't speed and at times were over 200 kph but we were careful and perhaps overly careful. Many people got booked and as the tapes show not the least being Charlie Kovacs and Len Walsh who got nabbed at 165 kph and when that information was available to David Adamson, Charlie and Len were disqualified and we were awarded The Cup – 1st Place. We were not booked at all during the entire event in any state, David Adamson still at that time wanted to run another event the following year, probably to Darwin so if the media had found out that the winner had been booked for 165 kph his chances of running a second Cannonball would have been zero.

My personal opinion is good on Charlie and Len they got there first and you can't take that away from them well done and at the end of the day we could have also been booked.

But aside from all that congratulations to David Adamson who I think did a great job of keeping it together and hats off to him for actually running the event. I am sure the pressure on him was great but at the end of the day he did it and all the competitors should be impressed by the fact it actually went ahead.

And hats off to all of the competitors who actually did it. They raced across Australia and did it without crashing or injury and allow us all to look back at the Cannonball Run with fond memories.

John Hassard, May 2017