Porsche 356 B Super 90
Driven by John Gregory and Axel Tworowsky

Drivers
John Gregory and Axel Tworowsky
Vehicle
1962 Porsche 356 B Super 90
Registration
JKB999 (VIC)
Result
27th – 40h 57m 44s
The Porsche was owned by Axel Tworowsky, who drove with his good friend, John Gregory.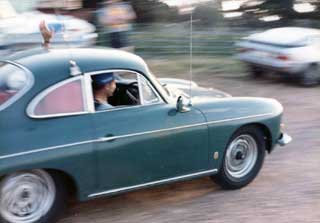 They were the second team to start, and took a route parallel to the Calder Highway that was relatively free of traffic and where they were able to hit speeds of up to around 190 km/h.
But by the time they reached the South Australia border they had problems with the Porsche's generator, which they had only just replaced before the race as preventative maintenance.
With no power for the headlights they were forced to drive at a slow pace, but were determined to make it to Perth.
Paul Mulcahy recalls that they asked to follow his Holden Torana as they couldn't see in the night well without headlights. Paul said, "They followed us for a little bit but when we got up around 160 km/h they dropped off."
They were followed by police aircraft across the Nullarbor so drove at the speed limit. But after the monotony of being followed continuously for several hours John's speed drifted up and police immediately stopped him claiming he was doing 134 km/h, a figure he disputes.
At the Albany checkpoint they talked of being constantly harrassed by the police.
They needed a new battery but nothing was open at the time so they attempted to swap batteries with another car, possibly the checkpoint or film crew's vehicle.
Theye were able to continue on to the finish where they were the last team to arrive.
John Gregory (28 August, 1931 - 18 March, 2003)
John passed away in March 2003 from Myeloma, a form of cancer.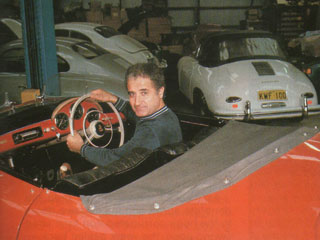 Mike Jacobson, John's son-in-law, says that John had many stories from the race, and that John and his co-driver Axel Tworowsky were inseparable friends to the end. They often reflected on the event with great memories.
John was born and grew up in Lebanon and he and his family immigrated to Australia in 1952. Following an apprenticeship with Ford overseas he found work in Melbourne as a mechanic. He soon started his own business and after developing an interest in Porsche 356's, and became a Porsche specialist.
His businesses were Carrera Motors, and later Spyder Automobiles.
Sports Car World magazine had an article on John in the January/March 1982 issue titled "Mr 356". It stated that he had owned between 50 and 70 Porsche 356's at that time.
Alex Tworowsky (- 2001)
Alex Tworowsky passed away in 2001.
When Axel immigrated from Germany he worked with John Gregory at John's business, Carrera Motors.
He went on to start his own business, South Yarra Auto Parts which became Hanvic South Yarra (HSY) Auto Parts.