Holden HX One Tonner
Driven by Charlie Kovacs and Len Walsh

Drivers
Charlie Kovacs, Len Walsh
Vehicle
Holden HX One Tonner
Result
1st – 32h 22m 5s (later disqualified)
Len Walsh says that entering the race was Charlie Kovacs's idea, and that Charlie supplied and prepared the car. Len says, "He selected me because I was the only driver he knew who was faster than him. Charlie may report differently you understand."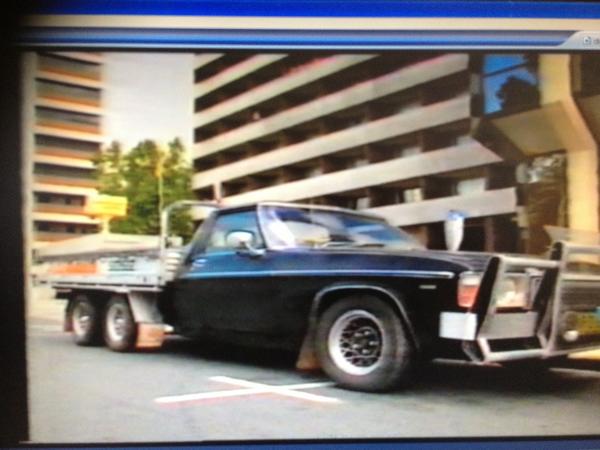 Charlie had seen an advertisement for the race in Auto Action magazine.
The Holden HX One Tonner had a L34 V8 installed, which was purpose-built by race engineers. For the race it had a camshaft and final drive ratio to make it easier on the engine and use less fuel.
Charlie commissioned an alloy fuel cell of around 1,000 litres that was intended to limit the number of fuel stops to only one, which was planned for Ceduna in South Australia. The car also had a special insect-deflector for the windscreen, and carried several spare wheels and tyres.
They did have concerns before the race, and Len was quoted in a couple of news reports suggesting that they were considering pulling out.
He recalls that one of the competitors had been the subject of a police pursuit a week prior to the race and told police that they were practicing for the race. This broke the intended secrecy and was a major source of concern to them. It became a much more daunting enterprise when the police knew the identity of every single car, although not necessarily the drivers.
They did decide to continue on with the race and they started at around 7:15 pm in around 10th or 16th position.
Len said that entering the Calder Highway from the farm was difficult due to heavy traffic and the large number of spectator vehicles lining both side of the road for a kilometre or more. The police were present, photographing vehicles from outside the gate, but they did not assist with traffic management.
Charlie said that the ute was geared to cruise at 200 km/h at 4,500 rpm all day long, but would pull to 5,500 rpm if required.
The Holden had been equipped with a radio scanner and Len's experience as an air traffic controller afforded them a significant advantage. They were able to track the police air wings in each state.
Their first of only two encounters with the police was at Bridgewater, just beyond Bendigo in Victoria. Len thinks they may have been spotted at over 180 km/h.
After the Berri (South Australia) checkpoint, they travelled on back roads, including sections of gravel or graded dirt at up to 180 km/h.
They chased a very rapid leading Brock Commodore (Csaszar/Morton) across the Nullabor, and listened to the truck drivers talking about it over CB radio. They repeatedly asked the truckies how far ahead it was of them, but couldn't close the small gap of around 10 kilometres.
Len says that the police were trying to provoke them into trying to catch the Commodore via the radio, but they were wary.
By the WA border they were still in second place and easily avoided the trap that delayed many drivers, due to their communications equipment and knowledge.
They took the lead when the driver of the Commodore was arrested and held up for several hours.
They were stopped at further roadblocks in WA, which involved careful examination of cars for roadworthiness, but survived and carried on.
Len thinks that the police were surprised when they turned south for Albany, which allowed them to motor along at over 200 km/h without seeing any police until they got to Albany. They drove around Albany for some time, unable to locate the checkpoint (it had not yet been set up as the organisers did not expect teams to arrive so quickly).
At this point they were on target to finish in about 25 hours, however the WA police got their act together and the Holden was shadowed with patrol cars front and rear all the way to the finish in Fremantle.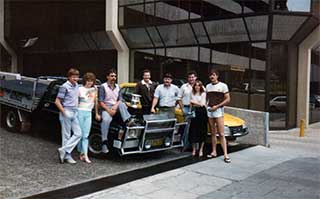 Kovacs and Walsh arrived first, at around 3 am, to a crowd of thousands of spectators. The reported race time was 32 hours, 22 minutes and 6 seconds.
A yellow Commodore (Hassard/Bray/Crowle) arrived around ten minutes later. Len says that he was amazed with their performance as they had a CB radio but no scanner or radar detector – "Just a floor covered in empty NoDoze packets and a carefree attitude."
Most of the other vehicles arrived hours later, also shadowed by patrol cars.
Despite their plan for a single fuel stop they found the ute became unstable at speeds over 200 km/h once the fuel level started getting low. Consequently they stopped (from Len's recollection) at Berri, South Australia, and somewhere in Western Australia, although Charlie was reported at the time as saying they stopped three times.
After the race, Len says that the police followed them everywhere, and staked out their car around the clock. Not game to drive through WA again, Charlie had the car shipped home by truck, and Len returned to Melbourne as aircrew with British Airways.
He says that he and Charlie were keen to participate in more of these type of races, but most of the events planned never amounted to anything.
Charlie still has the trophy (Len has a replica) and was able to keep the $10,000 prize cheque as it bounced, and they never received the prize money. The car was sold around ten years ago and was last seen delivering plasterboard for James Hardies.
Len says he was never told about their disqualification.